We are ready for a new chapter!
Reimagining,
where will our values drive us?
It all comes down to a school project.

Leo, Chris and I created FantasyStudio three years ago in a small town in British Columbia, Canada. I met Leo in my school's video production class. After working on several projects together, we were both fascinated by the process of turning an immature conception into motion pictures which everyone can enjoy. We came up with this YouTube channel where we can post our daily lives as international students in Canada and share it with the rest of the world.

​Although the YouTube idea didn't end up well, but it turned into something even better. The small three-men YouTube channel has grown impressively in size, with multiple offices and a wider range of service offerings.

Our objective was to share those small yet important ideas, not having them lost in today's over-complicated market. We wanted to connect the world, to connect people, and to connect our communities with videos that are meaningful and address things that matter. We believed that we can only gain a reputation by devoting ourselves with creativity, dedication, charity, and honest hearts.

I am proud to say that

though FantasyStudio has evolved over the years, the same beliefs that started the studio still drive it today.

We are determined to stick to these courses and values, plainly because they are who we are. They have become a part of our identity that is inseparable.

Two years ago, the co-founders decided to shift the studio's focus to aiding and assisting non-profit organizations to accelerate social reform. For the past two years, we've been telling stories that create change and influence people - to see and think differently about their lives and decisions. We were often asked why we decide to do what we do, instead of making money by creating advertisements for companies and others. I guess the answer is simply that we care. We care about our communities; we care about our environment; we care about the future generations' educations; and we care about a fairer and more equal society. They are what drives us and what defines us.

FantasyStudio, now LCJ-FantasyStudio Media, is growing bigger and bigger. However, it has also become overstaffed and bureaucratic. That is not what we want when we founded the studio. Therefore, we are now restructuring the entire studio to make it an effective partnership.

LCJ-FS Media Partnership is about different sections of our core businesses prospering through strong leaders and effective administration. In general, our model is to have a strong partner who manages each business, with Leo, Chris, and me as managing partners guiding the Partnership's general direction. The restructuring could take months, but it is crucial for us, for the studio, and for the values we believe in. It will clear the now complicated command-chain, and clean the internal organization for resources to be distributed more adequately. We want to boost the studio's creativity and efficiency, as well as productivity and organization. The fourth Board of Directors of the studio are currently selecting partners, along with senior executives from our employees. We already have a couple of names in mind, and we are thrilled to get more on board.

It is a very exciting time for all our us at LCJ-FS Media. The birth of a new partnership is like a new chapter for this young multi-disciplinary studio. We've also redesigned our logo with a shape of a camera shutter and with more colours. We want to identify ourselves as young, creative and active photographers and cinematographers, that have multitudes of opportunities lie ahead.

We are super excited about:

Getting more amazing things done.
Reviewing our long-term goals.
Improving the transparency and oversight of what we're doing.
Empowering great ideas and organizations to flourish.
Establishing a more focused business model.
And, improving our communities and people's lives through our works.

Stay tuned, and see where our values will lead us.

Jeffrey Qi | Managing Partner
Powered by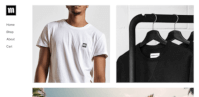 Create your own unique website with customizable templates.