Management Executives
They make the studio working.
Dean Chiu
Executive Director, Human Resources / Executive Producer

Talent is, really, everything in our business: in every department, from the most junior to the most senior person. We look at things in a different and unique perspective.
Belle Ke

Executive Director, Visionary

Our objective is to share those small yet important ideas to the world, not have them lost in the over-complicated market of this world.

Tegan Servai
Executive Director, Market Development


Tegan is leading a team of development engineers working on building a platform capable of mobilizing global resources for clients worldwide.

Jonathan Zhang

Executive Director, Public Relations

Creative advertising is pure essence, indivisible, a generator of emotions and reactions.
Powered by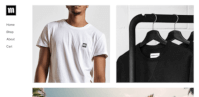 Create your own unique website with customizable templates.