Creative and Production
These are some of the most important people in the studio.
(sorted by ranking)

Dean Chiu
Supervising Producer / Executive Director, Human Resources

The memorable revealing of personal stories and the rediscovering of the art of great narrative rejuvenates me each time.

Emily Lai
Producer

Emily joined our on-site production team during the Burns Bog ecological promotional video production. As a Producer, Emily oversees all aspects of the productions, and manage resources efficiently for greater productivity.

Mannkiran Pandher
Producer

As one of our new employees, Mannkiran has been implementing groundbreaking professional and creative innovations to our businesses across the studio.

​
Prabhjot Athwal
Executive Producer

As an executive producer, Prabhjot supervises the progress of the production, and makes arrangements to the schedule when needed.

Arjan Brar
Executive Producer

Arjan joined us in 2015 as an Assistant Producer. Now, promoted to Executive Producer, he's involved in the initial brain-storming meetings and executes the scripts during productions.

Aiden Macdonald
Field Producer

It is always our endeavour to look for people from different walks of life, people who have a creative bend of mind.

​
Brendan Rawlings
Field Producer

Brendan joined us during our Burns Bog campaign and he has been helping the studio producing good storytelling projects ever since.

Minahil Rehman
Line Producer

Minahil is a dedicated line producer dealing with all matters regarding talents, logistics, equipments, and the health of all crew members.

Benjamin Hu
Associate Producer

Talent and creativity are what make us unique. The only trick is to know how to get them out.
Christopher Vaive
Assistant Director of Photography

Chris is an aspiring photographer and has joined our team in 2015 as an Assistant Photographer.

Erica Yang
Assistant Director of Photography

Erica volunteered at the Jog for the Bog 2015 and helped our production crew documenting the event. Since then, she has become a core member of our team.

Kimberly Ye
Executive Director, Arts

A talented artist determined to deliver the most creative work in the industry.
Powered by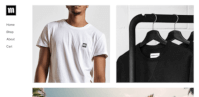 Create your own unique website with customizable templates.