Our co-founders
How they created this studio and why.
Leonardo Xu
CEO, President

I always have a passion in performing, breathing lives into unique characters on stage. That also goes into movie directing. I love making videos. It's not only the great feeling of accomplishment after finishing everything and hit the "upload" button, but also the course of making it. You put your heart into every production. Allowing the scripts on a boring white piece of paper dancing freely, just like the human mind. I want to connect the world, connect people, and connect our communities with videos, videos that are meaningful and address things that matter. That's the studio's goal, and that's what we are fighting to achieve.

a film director, a screenwriter & an actor
Jeffrey Qi
Director, Operations / Producer
I met Leo in our school's video production class. After working on several projects together, we are both fascinated by the process of turning an immature conception into a film which everyone else can enjoy.

We came up with this YouTube channel where we can post our daily lives as international students in Canada and share it with the rest of the world. Although the YouTube idea didn't end up well, but it turned into something even better.

The small three-men YouTube studio has grown impressively in size, with multiple offices and a wider range of service offerings. Though FantasyStudio has evolved over the years, the same beliefs that started the company still drive it today.

a cinematographer, a manager & a producer
Chris Fang
Director, Programs
I joined Leo and Jeffrey's YouTube channel half way through. We had a fun time creating all those funny videos on YouTube.

After the transformation of the studio - from a group of amateur YouTubers to a well-organized creative video production studio - I certainly feel the importance of video marketing in this digital-ruled world. And online videos play a critical role in the future of online promotion. YouTube gives every internet user the potential of becoming a movie director and producing a film which everyone can watch, criticize and promote. The journey of pursuing to become the leading creative studio in the industry is full of excitement, innovation, and opportunity.

an actor, an artist & a coordinator
Powered by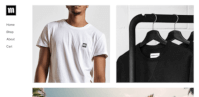 Create your own unique website with customizable templates.